Z Turf Equipment Productivity Chart
In the long run, your Z Turf Equipment machines may be the least expensive lawn care equipment you'll ever own.
The purchase price of any piece of lawn care equipment is far from what it will ultimately cost over its useful life. That's why it's important to remember that the investment you make in lawn care equipment doesn't impact your bottom line nearly as much as other operational costs. That's why Z Turf Equipment's renowned durability, high performance and low maintenance will save you both time and money. When combined with the reduced downtime and operating costs, and increased resale value, it's easy to see why Z Turf Equipment is the perfect partner for your thriving lawn care business.
Z Turf Equipment can also help build your business in other ways too. Our unmatched results help you retain customers, and the reduced service and downtime enables you to focus more on customer service and less on maintaining your machines.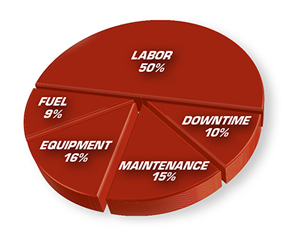 Grow Your Bottom Line
The increased efficiency and productivity of Z Turf Equipment can increase your profitability in a number of ways, including:
Increased employee productivity
Fewer hours lost to equipment downtime
Reduced repair costs
Ease of maintenance
Greater residual value